Xiaomi continues to grow a lot in China, although a recent report has shown it is still behind Huawei in the region. Now IDC has released yet another survey where the manufacturer appears to be the only one to grow in the 5G handset market, while all major brands have seen sales decline in the last quarter.
IDC points out that 84.8 million cell phones were sold in China in the third quarter of 2020, which represents a 14.3% drop compared to the same period in 2019, where 98.9 million units were sold.
However the most interesting factor is that only one brand registered an increase in sales compared to last year: Xiaomi. According to the report, the Chinese had a growth of 13.4% in sales, while Huawei, which dominates the Chinese market had a fall of 15.5%.
As you can see above, in the third quarter 2019 Xiaomi sold 9.7 million cell phones, while now that number has grown to 11 million, while Huawei accounted for 35.1 million units sold in the third quarter.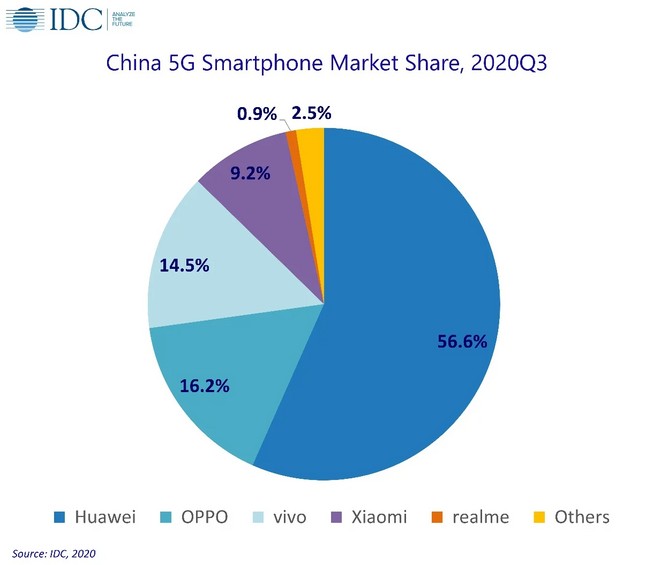 Finally, the report also reports on the growth of the 5G market in China, where 117 million cell phones with the technology have been sold since 2019. Of this total, 49.7 million (42%) were sold in the third quarter of 2020 only. segment Huawei continues to lead with 56.6% of the market, while Oppo appears in second, vivo in third and Xiaomi in fourth with only 9.2% of the total.
know more
Disclaimer (Important):
The information provided here is only meant for educational purposes. We do not intend to promote online websites that are using pirated content to stream. At Viralpanda.net, we believe in providing accurate information from all kind of trusted and credible sources. Accessing the pirated content through torrents in any form is against the law, and this article is not meant to advocate or encourage it. Piracy is an online offence and can lead to steep fines or imprisonment. We do not claim all content that is shared on this page as ours. we are just providing the information that you need. We don't encourage or promote piracy in any manner.